Places in Gauteng
Gauteng is the smallest province in South Africa but is home to the largest city in South Africa. Gauteng is small in size but has a lot to offer from township tours, game drives and safaris to elegant wining and dining. See below Gauteng accommodation and safari options.

South Africa
Gauteng (Johannesburg | Sandton | Morningside | Midrand | Sandhurst)

AtholPlace is a luxury boutique hotel in Sandton offering private dining, room service and well appointed facilities for discerning guests. This small Sandton hotel
Located in the affluent suburb of Sandton in Johannesburg, South Africa, this hotel in Sandton is ideally located to cater to all your business and leisure needs. Sandton City
This luxury country-style Inn that offers all its guest luxury and affordable accommodation is situated in the heart of Sandton. This luxury country-style Inn offers the business
Garden Court Morningside Hotel is perfectly located in the fashionable suburb, north of Johannesburg. Close by are world-class entertainment and shopping complexes, such as Sandton
Garden Court Sandton City Hotel is situated in the heart of Sandton, the exclusive residential and business area north of Johannesburg. It is conveniently located for business travellers
Hilton International is known for its business centre, Hilton Meetings. The facility incorporates a large conference venue and executive meeting rooms
Located in Woodmead, this Sandton hotel is conveniently situated for business travel and leisure.
This 4-star Sandton hotel offers a warm welcome, great facilities and views over Nelson Mandela Square. This Mozambique hotel boasts a business centre
Towering high above Sandton's contemporary skyline is the ultra luxurious The InterContinental Johannesburg Sandton Towers - one of the finest Sandton hotels
The Michelangelo Towers rises majestically above the Sandton skyline and offers exquisite business accommodation in Sandton to both the corporate traveler and leisure seeker
Located in the heart of 'Africa's richest square mile', this Sandton hotel in Katherine Street ticks all the boxes for international travellers. Park Inn Sandton
Protea Hotel Balalaika Sandton is situated 400m from Sandton City and Nelson Mandela Square, just 36 km from Johannesburg International Airport
This grand luxury hotel is situated on the greenbelt of Johannesburg's prestige suburb of Sandton. This magnificent establishment boasts 230 bedrooms offering a sleek work desk
The luxurious Faircity Quatermain Hotel is situated in bustling Sandton City, Johannesburg, and offers both the business and leisure guest all they need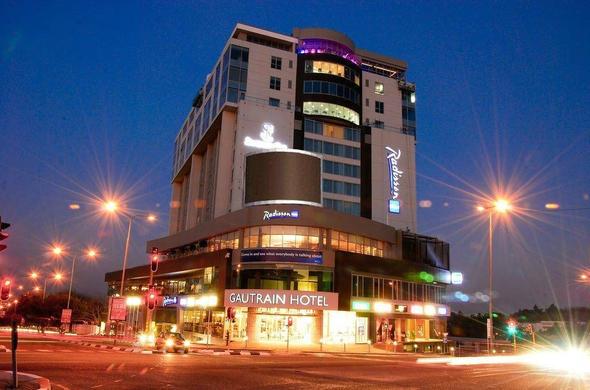 The Radisson Blu Gautrain Hotel in Sandton Johannesburg is enviably located in the premier financial and business district of South Africa
This hotel in Sandton is a landmark gracing the skyline with inimitable flair - in the heart of the high finance district and home of multi-national companies
The Raphael Penthouse Suites offers Manhattan style living in the heart of Sandton in Gauteng, South Africa. Stay in modern luxury in either one or two bedroom apartments, all fully equipped with kitchens
Sandton Sun boasts direct access to Sandton City shopping centre via the Diamond Walk which comprises of the world's top designer brand stores.
Saxon Boutique Hotel, Villas & Spa welcoming entrance with stately staircase sweeps around a central glass dome, permitting natural light to blend with and enhance the contemporary African decor and handcrafted ethnic
Southern Sun Katherine Street Sandton is located in an exclusive area that is regarded as the business and economic hub of South Africa. It is set in attractively landscaped gardens and is close to
Ten Bompas Hotel is located close to South Africa's prime business centres of Rosebank, Sandton only a 30 minute drive from Pretoria by car.
The Maslow Hotel is perfectly positioned in Sandton, an exclusive northern suburb of Johannesburg close to the financial hub of the country. This hotel is perfectly equipped
Over the heart of Sandton Square, towers the majestic Michelangelo - the perfect vantage from which to observe the entertainment and corporate capital of Africa. Immerse yourself in the culture and