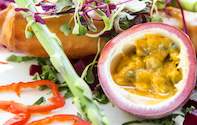 Premier Hotel Falstaff is situated close to the Sandton Square and offers a haven of designer shops and restaurants.
Close proximity to Sandton Central Business District
Hospitality room for early arrivals and late departures
Swimming Pool within landscaped garden courtyard
Sandton Square and the Village Walk are minutes away
Premier Hotel Falstaff is closely located to the Sandton Central Business District and features a sparkling swimming pool for guests to relax after a hard day's work. The well celebrated and praised for its designer shops Sandton Square and the Village Walk are just a few minutes away.
Falstaff Bistro serves delightful cuisines. They are open for breakfast, lunch and dinner, serving from an a la carte menu. Fully equipped Business Centre offering Internet, e-mail, fax, colour printing and copy facilities.
Conference Facilities
Premier Hotel Falstaff boasts a 2 conference centres that seats 15 people in a U-shaped 20 in School room shape and 25 in Cinama style. The equipment includes an overhead projector, screen, TV & DVD player, 2 flipcharts and note pads with pens. Data projectors and other additional equipment are available on request at a market-related fee.
The conference day packages include tea/coffee and juice on arrival, tea/coffee and pastries in the mid morning/afternoon and lunch in the restaurant.