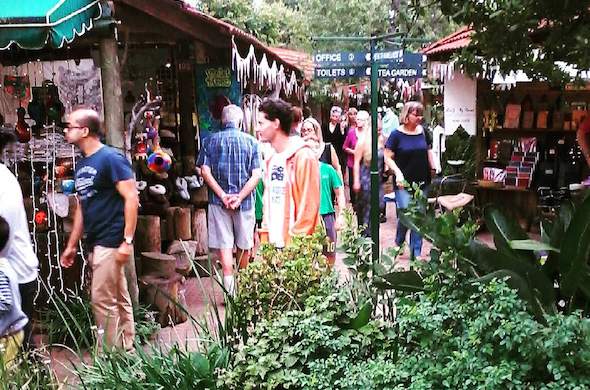 © Bryanston Organic Market in Sandton.
Sandton is known for its upmarket shopping centres and their glamorous patrons, if one looks past the hustle and bustle of the large shopping malls you might find a world of hidden markets where bargains and unique items can be found.
The Village Walk African Cultural Market
Specialising in arts and crafts, this African flea market is located on the corner of Maude Street and Rivonia Road in Sandown, Sandton. Open Mondays to Fridays from 09h00 to 18h00, Saturdays from 09h00 to 16h00 and Sundays from 09h00 to 13h00, the bustling African market displays authentic African style goods that reflect the continents culture and traditions.
The ideal place to search for a special momento of your holiday or to find a unique gift for a friend or family member, the markets goods range from hand carved wooden animals to masks, beadwork and an array of other trinkets and curios.
Sandton Shopping Markets
Sandton is almost synonymous with the concept of shopping with large shopping malls around almost every corner, all filled to the brim with the latest in designer clothing, the most beautiful homeware and the ultimate current technology.
But for those searching for something a little different or out of the ordinary, Sandton also offers a number of interesting markets where quaint, unique and interesting arts, crafts and other merchandise can be found. Here is a list of a few of our favourite Sandton markets.
Blubird Wholefood Morning Market
Offering the freshest, preservative free, most delicious international cuisine enhanced with exotic spices and interesting ingredients, the Bluebird Wholefood Morning Market is a must-do activities for both local and visiting foodies.
If you are looking for the best in local produce combined with the passion of enthusiastic chefs, look no further than the Bluebird Shopping Centre on Athol Oaklands Road off of Corlett Drive. Open every Sunday from 09h00 to 14h00, the market is a treat for the senses.
Craighall River Market
Located in Marlborough Drive in Craighall, the Craighall River Market is open every second Saturday from 09h00 until 13h00. Selling an array of fresh organic produce, designer products, home baked breads and sweet treats, visitors to the Craighall River Market will want to come hungry to ensure they can make the most of the decadences on display. Fun for the whole family, the market also offers children's entertainment to keep the little ones happy.
Michael Mount Organic Village Market
In Culross Road in Bryanston one will find the Michael Mount Organic Village Market. With over 120 stalls to explore, the market specialised in natural and organic products. Browsing through the stores shoppers will be able to purchase good made from natural materials and organic fruit and vegetables.
Open on Thursday to Saturdays between 09h30 and 15h00 the market is also family friendly with a gem scratch patch and pony rides available to keep the children happy. When you have finished exploring sit and relax in one of the three tea gardens and enjoy a delicious meal or a cup of coffee and a slice of cake.