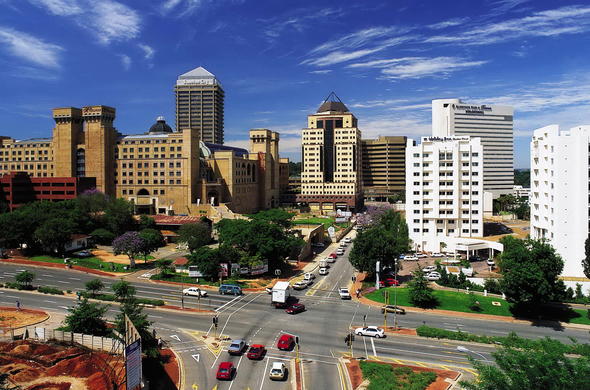 A well-known area in Gauteng and a main business hub, Sandton is a popular area for visitors to stay in when exploring Johannesburg and its surrounding attractions.
Stretching across only 133.84km2(51.68 square miles), Sandton city is one of the most well-known areas in Gauteng. Located to the north of Jo'burg's city centre, above Melrose Arch and to the right of Randberg, Sandton is known to be a wealthy and influential area where many of Johannesburg's top business men and women work, live and play.
The area was originally occupied by various indigenous groups, mainly the Tswana people. The Europeans settled here for a period and the Esterhuysens and Zandfontein families from the Voortrekkers were predominant in the area.
Sandton takes its name from the combination of the names of two of its nearby suburbs; Bryanston and Sandown. The area was considered a town, with its own municipality for a brief period after 1969 but this status was removed after the re-organisation of South African local governments as Johannesburg expanded outwards.
During the 1960's the land was mostly residential, consisting mostly of small holdings and farms which gave the area a rural feeling. People living here were considered smartly dressed and this is what has led to the idea of the 'mink and manure' belt of Johannesburg.
Sandton grew rapidly in the 1990s as the crime rate increased in the Johannesburg city centre and businesses were forced to move out of the CBD. This move has resulted in Sandton becoming the new business hub of Johannesburg, although many large companies and banks still choose to keep their offices in downtown Johannesburg. The JSE (Johannesburg's Stock Exchange) also relocated their offices to Sandton in the 1990s.
The Sandton Convention Centre is one of the largest convention centres on the continent and is home to a number of important conferences and summits. In 2002 the World Summit on Sustainable Development was hosted at the centreand the 2004 ANC (African National Congress) victory celebrations after party was also hosted at the convention centre. One of the areas main attractions is the Sandton City Shopping Centre.
When combined with Nelson Mandela Square, Sandton City Shopping Centre is a huge 144 000m2 making it one of the largest shopping centres in Africa. A detail that causes much ridicule and interest, the opulent Sandton area is located just 6 kilometres (3.7 miles) from one of South Africa's poorest areas, the Alexandra townships.
Considered a safer, more affluent and influential area, there are many guest houses and hotels in the Sandton area providing an abundance of accommodation options for tourists and travelling business executives to choose from.